On December 4th, Senior Hannah Hollister confirmed her commitment to play Softball at Grand Valley State University in a ceremony held in the high school's media center. A multi-sport star- Hannah will be a welcome addition to a Lakers squad that has rose to national prominence!
The Hollister Family - Dr. Steve Hollister, Ethan Hollister (Class of '19 / Baseball Player for Cleary University), Kelly Hollister, and Hannah
As a standout for Cavalier Athletics, Hannah has re-written the record books and been recognized by others for her excellence both on and off the playing field. Hannah was recently named the Flint Kiwanis Female Athlete of the Month for September and will be eligible to win the Athlete of the Year award in May! Hannah is a member of our National Honors Society and can also be seen in the concession stand at Cavalier events- helping out the Corunna Athletic Club; to which her parents have devoted countless hours. Hannah was recently named a Flint Metro League Scholar Athlete for maintaining a GPA of 3.5 or highter and earning her Varsity Letter.
On the Volleyball court, Hannah's versatility helped Coach Carnell's Cavs to their 4th straight Conference Championship this fall, and the school's first in the Flint Metro League! This fall, Hannah was named to the First Team of the Flint Metro League Stars Division!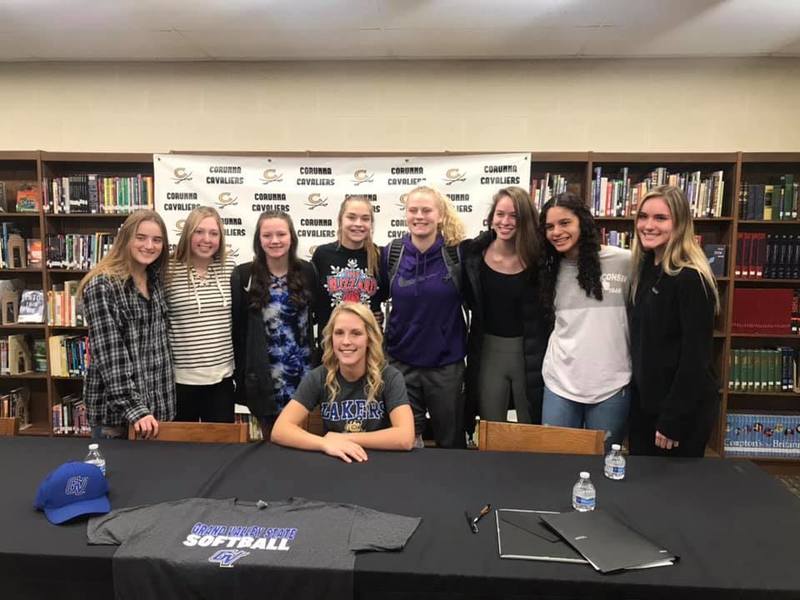 Hollister and members of the 2019 Cavalier Varsity Volleyball team!
On the Track, Hannah has re-written the Cavalier record books! Her name is associated with 4 school records at CHS! In the spring of 2019- she led the Cavs to the school's first Division 2 State Championship - winning an individual State Title in the 200m Dash and the 300m Hurdles- while anchoring the State Championship 4x100 Relay of Lilly Bower, Elizabeth Norris, Lexi Mort, and Hollister. Her Track resume is the stuff of Cavalier legends!
Without a doubt. Hollister is one of the best Softball players to not only go through Corunna, but also the entire area. Her level of play for Coach Shuster and the Lady Cavs is extraordinary and was recognized by several school's who saw Hannah as a perfect fit for their program! In 23 games last spring, she was flawless for the Cavs in the outfield and lit up pitchers on her way to another All-League recognition!
We couldn't be more proud of Hannah and excited to watch what the future brings for this phenomenal young lady! She may be a Laker soon, but she will always remain a Cavalier, and is undoubtedly just another reason- it's GREAT to be GOLD!
Michigan Girls Sports Report Article