On November 13th, Senior Elizabeth Norris signed her National Letter of Intent to play Volleyball at the University of North Dakota! A ceremony was held in the high school media center to recognize this incredible accomplishment for the multi-sport star! Family, friends, and teammates were on hand to support Elizabeth as she inked her commitment to the Fighting Hawks!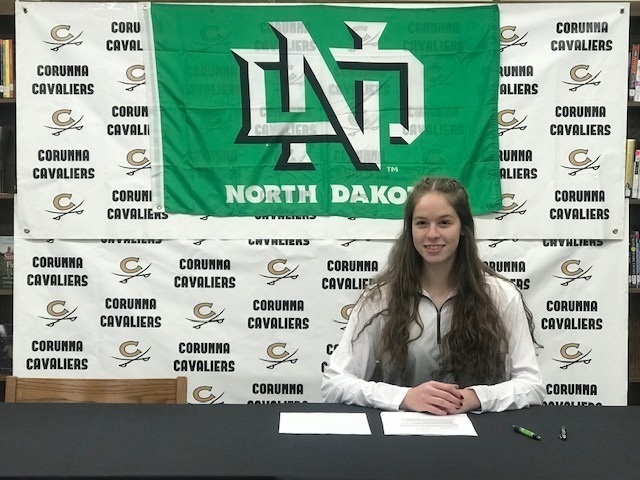 Norris with members of the 2019 Varsity Volleyball Team
A star on the court, Elizabeth was named a finalist for the 2019 Miss Volleyball Award- a prestigious honor reserved for the top 10 players in the State! Elizabeth's accomplishments on the court include re-writting the CHS History and MHSAA record books! Her 879 kills in 2018 rank above all others in Corunna Volleyball history and 13th in MHSAA History! In 2018, Elizabeth led the Cavs to their best team finish in school history- as the Cavs made it into the final four before losing to eventual State Runner-Up- Notre Dame Prep. As a senior, Elizabeth led the Black and Gold to their 4th straight League title and the school's first in the Flint Metro League! She collected All Conference, All Regional, and All State accolades along the way!
Elizabeth is not just a force to be reckoned with on the Volleyball court. She is a dominant member of the CHS Track Team and helped lead the team to it's first ever Division 2 State Championship in the spring of 2019. Elizabeth has qualified to the State Meet multiple times as an individual in High Jump- but her true shining moment came in the 4x100 race at the State Meet where her, Lilly Bower, Lexi Mort, and Hannah Hollister not only won the State Title, but also set a new school record! Her track bio is nothing short of extraordinary!
We could not be more proud and excited for Elizabeth! Her parents- Dr. Robert Norris and Nikki Norris have done a phenomenal job raising this amazing young lady and her hard work is paying off! Elizabeth will soon be a Hawk and may wear green and white- but will always have a home here at CHS in black and gold!
University of North Dakota Article